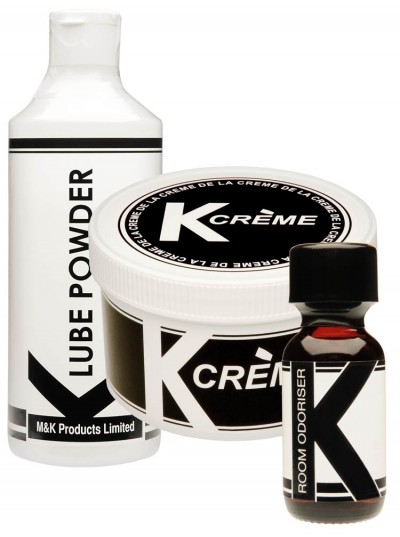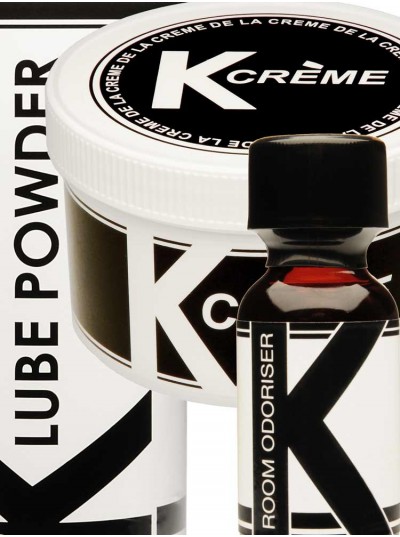 -10 %

K Essential Pack
K Lube Powder • 200g



Long lasting non drying powder based lubricant hydrated with water

K LUBE POWDER is a concentrated powder that dissolves easily in water and is a very effective slick lubricant.  To make up, simply add water and agitate until mixed.  You only need about 2 teaspoons per 0.5 litre of water.  So a bottle of K LUBE POWDER will make approx. 20 litres of lube.
K LUBE POWDER is completely inert and non-irritating and contains special preservatives so that the finished product stays as fresh as the day you make it.


easy clean with soap & water
K Crème • 400ml
VOILÀ! CREME DE LA CREME
ACCENT ON LUBE

Announcing K CRÈME, the newest member in the K range.  This oil-based crème is thick and creamy with a light smooth texture.  Delicate enough to enhance sensation, yet robust enough to remain in place.  Great for all types of play, K CRÈME will stay slick for the duration, and the more it's made to work, the better it gets!

Not compatible with latex condoms due to its oil base.  But can be used with polyurethane condoms.



rich oil-based personal lubricant

smooth, creamy & long-lasting

stays slick for the duration

easy clean with soap & water
made in the UK


K Aroma • 25ml


K matters - aromas and lubes
25ml bottle

made in the UK


Availability:

In Stock

Product Code:

KEP