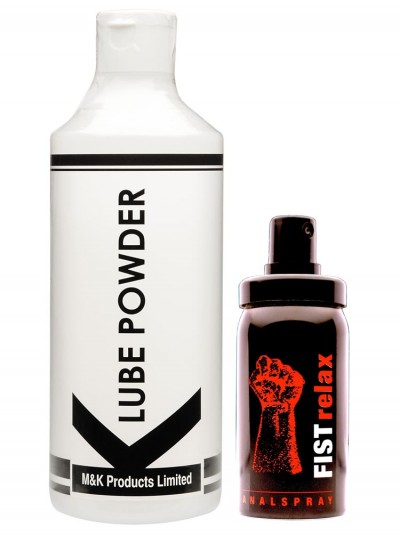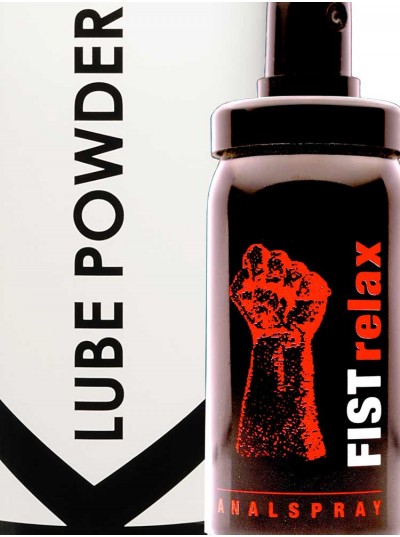 -10 %


Fist Relax + K Lube Powder
FIST SAYS RELAX
FIST relax is an anal conditioning spray that relaxes rather than desensitizes the anal area. Made from natural herbal ingredients with Aloe Vera, it allows for more comfortable and easy penetration by relaxing the soft tissue of the anal sphincter. The spray is light, non-greasy, fast acting and long lasting. Condom safe, toy and lubricant compatible.
FIST relax opens up the benefits of anal play to all.
15ml spray allowing approx. 60 applications

natural herbal formula with Allow Vera

allows more comfortable penetration

smooth, intense feeling for both partners

relaxes without desensitizing

light, non greasy & long lasting

fast acting, effective & easy to use

condom safe, toy & lubricant compatible
K Lube Powder
Long lasting non drying powder based lubricant hydrated with water
K lube powder is a concentrated powder that dissolves easily in water and is a very effective slick lubricant. To make up, simply add water and agitate until mixed. You only need about 2 teaspoons per 0.5 litre of water. So a bottle of K lube powder will make approx. 20 litres of lube.
K lube powder is completely inert and non-irritating and contains special preservatives so that the finished product stays as fresh as the day you make it.
200g bottle

quick & easy to mix

long lasting

easy clean with soap & water

makes approx. 20 litres

condom safe
Availability:

In Stock

Product Code:

FRKLP